One Health Direct is committed to helping people with diabetes provide innovatively, life-changing products shipped right to their door. We partner with the best manufacturers to ensure that our products are equal in quality to our customer service and support levels. As we continue to grow, we will not lower our standards or compromise our commitment to providing cutting-edge products that help improve patient outcomes and quality of life.
Continuous Glucose Monitor
A Continuous Glucose Monitor often referred to as a CGM, is a small, discreet, wearable device that measures, tracks, and relays glucose levels in the body providing the wearer with real-time readings, day and night with just a quick, one-second scan. This enables users to better monitor their glucose levels by providing transparency and tracings on how quickly they're increasing or decreasing.
CGMs do not eliminate the need for blood glucose meter readings but provide additional information to enable more informed treatment decisions, improved glucose control, and increased awareness of the actual effects of exercise, food, and medication on the user's levels. CGMs can be used by people with Type 1 or Type 2 diabetes who are insulin-dependent and interested in better managing their diabetes.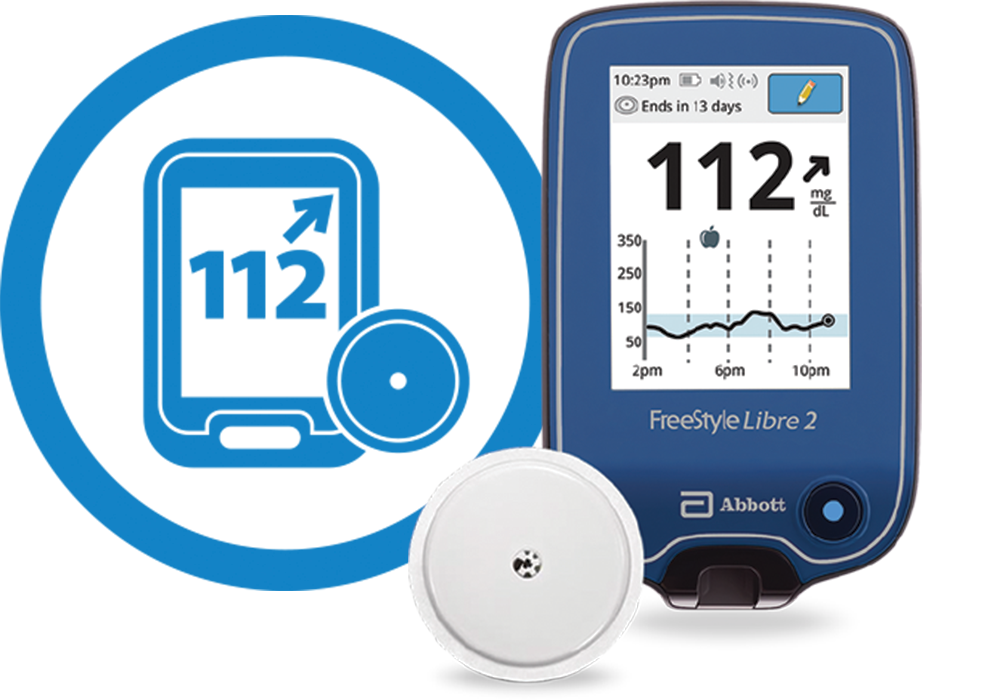 The FreeStyle Libre 2 system is a continuous glucose monitoring (CGM) device indicated for the management of diabetes in persons aged four and older. It is designed to replace the traditional finger-prick blood glucose testing for diabetes treatment decisions. The System detects trends and tracks patterns aiding in detecting episodes of hyperglycemia and hypoglycemia, facilitating both acute and long-term therapy adjustments. Interpretation of the System readings should be based on the glucose trends and several sequential readings over time. The System is intended for single patient use and requires a prescription.
Remarkable Accuracy and Precision
The sensors are paired with the user's smartphone or a reader and designed to accurately measure, report and relay glucose levels to help better manage the user's diabetes by providing consistent and accurate monitoring of their glucose levels. Rather than taking glucose readings from your blood, CGM sensor readings are taken from interstitial fluid, a thin layer of fluid that surrounds the tissue cells below your skin. As carbohydrates are digested, glucose enters your bloodstream before being absorbed into the interstitial fluid. Blood glucose readings tend to be about 5 to 10 minutes ahead of interstitial glucose readings. The system is easy and pain-free, and FDA-cleared for adults and children with diabetes ages four years and above.
Contraindications/ Warnings/Limitations
The System must not be used with automated insulin dosing (AID) systems, including closed-loop and insulin suspend systems. Remove the sensor before MRI, CT scan, X-ray, or diathermy treatment. Do not take high doses of vitamin C (more than 500 mg per day), as this may falsely raise your sensor readings. Failure to use the System according to the instructions for use may result in missing severe low blood glucose or high blood glucose event and making a treatment decision that may result in injury. If glucose alarms and readings from the System do not match symptoms or expectations, use a fingerstick blood glucose value to make diabetes treatment decisions or anytime readings are suspected to be inaccurate. Do not ignore signs that may be due to low or high blood glucose, hypoglycemic unawareness, or dehydration. The FreeStyle Libre 2 system should be scanned every eight hours, and the system contains small parts that may be dangerous if swallowed. The FreeStyle Libre 14-day system is not approved for pregnant women, persons on dialysis, or the critically-ill population. Sensor placement is not approved for sites other than the back of the arm, and standard precautions for transmission of blood-borne pathogens should be taken. The built-in blood glucose meter is not for use on dehydrated, hypotensive, in shock, hyperglycemic-hyperosmolar state, with or without ketosis, neonates, critically-ill patients, or for diagnosis or screening of diabetes. When using the FreeStyle LibreLink app, access to a blood glucose monitoring system is required as the app does not provide one. Review all product information before use or contact Abbott toll-free at 855-632-8658 or visit www.FreeStyleLibre.us for detailed indications for use and safety information.